AWESOME

. FEATURES
_________________________________________________________________________
API Management
We can support any API in the world! Our API system is fully automated and tested. If your API is not listed in the API list, there is nothing to worry about. Contact us with the API configuration you need and we will configure and implement for you within no time.
Content Management System
Our Content Management System also known as CMS, gives you an option to manage the contents of your website such as: managing your menu, custom links, custom pages, banners display settings, advertising solutions, news, mailings, support tickets and many other features. Gets ahead of your competitors by a good Google indexation.
Clients & Price Management System
Managing your clients and their pricing is as easy as 1,2,3 ! View their summaries, financials, APIs, packs and prices. Create pricing tiers (groups), where you can allocate customers as you like based on their purchasing value(s). So adjusting customers pricing and changing tier (group) pricing can be done as a group or individual in multi currency.
Unique Design & Customizable
Make the difference with GSM Unlocks solution by changing design, logo, header, text or anything you like. Looking for a customized template? GSM Unlocks has NO Boundaries, NO Limits and NO Job is Impossible. We can customize and implement any requirement you may have into your copy of the software. We will work on your vision, suggesting positive possibilities till your modifications satisfies your needs.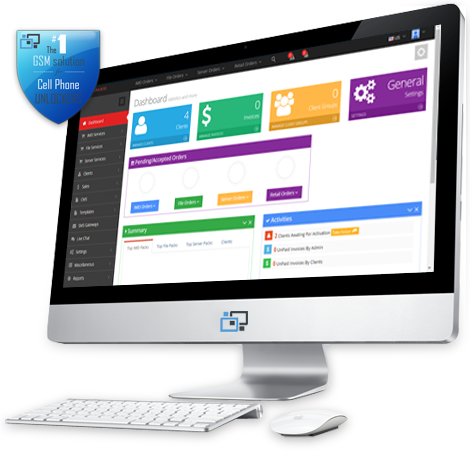 Why GSM Unlocks? • What's included?
One year of product updates and support included
Your license includes a perpetual GSM Unlocks license, one year of access to product updates and support, which is optionally renewable. Because your license is perpetual, you can continue using your GSM Unlocks license without an active product updates and support subscription. Your subscription is optionally renewable at $150 for 12 months.
Upgrading licenses and add-ons
At any point, you can upgrade your GSM Unlocks license or product and you will only need to pay the difference. You can also buy any of the add-on at a later time.
Total customization and control
Because your GSM Unlocks license is hosted in your own environment and you have access to the full templates source code, you have unlimited customization and control over your site. You can customize and modify your design as you like.
If you are interested in upgrading to GSM Unlocks from another vendor's software, we can help you transfering your data over. Contact us with details regarding what you will be bring over and we'll make it happen (an additional fee may apply depending on the extent of the work).
Your own IT environment
Download and install
Customizable
Much More features...